On Thursday evening, journalist Bari Weiss dropped the second of the so-called "Twitter Files" investigations, a deep dive into the documents and internal communications that detail the social network's efforts to censor content on the platform.
In this investigation, Weiss revealed that Twitter employees built and implemented a series of blacklists that were used to limit the visibility of certain accounts–also known as "shadow banning."
Here's everything we learned from from Weiss.
BLACKLISTS
Weiss identifies at least three different blacklists that twitter employees built with the intention of limiting the reach of accounts: a "trends" blacklist, "search" blacklist, and a "do not amplify" blacklist. Each list represented a different method to stifling a user's reach (for example, the "search" blacklist would limit a user's appearance in searches, and the "trends" blacklist would prevent a user's tweets from trending.)
TWITTER'S TARGETS
Though the extent of Twitter's use of these blacklists is still unknown, Weiss identified at least four users who were on them: Dr. Jay Bhattacharya, conservative talk show host Dan Bongino, conservative activist Charlie Kirk, and Libs of TikTik.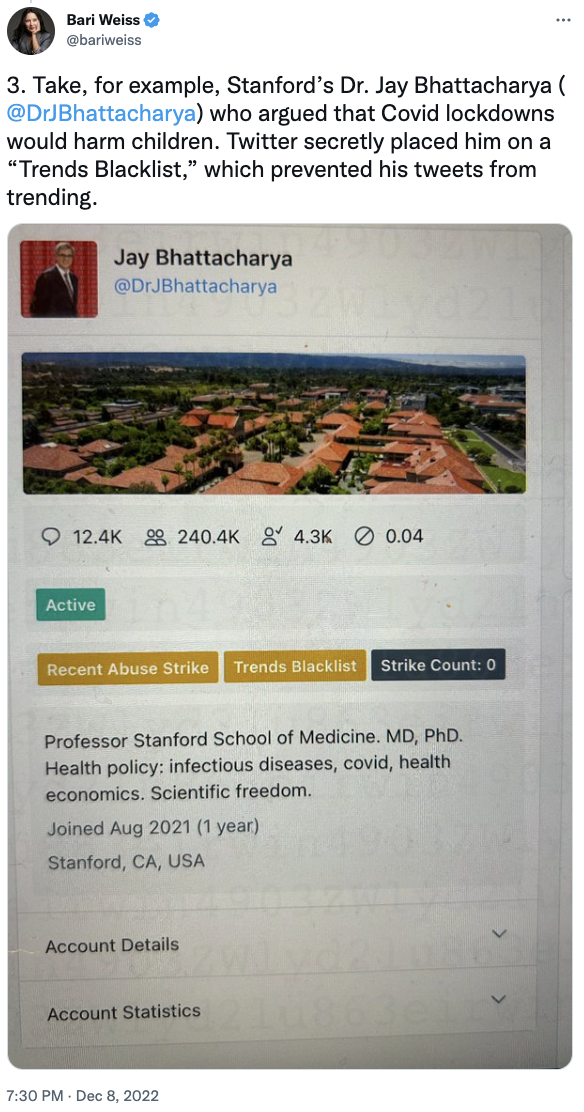 Of particular note is Dr. Battacharya, a medical doctor and professor at Stanford School of Medicine, who argued against lockdowns and mandates. Dr. Battacharya is the primary author of The Great Barrington Declaration.
TWITTER LIED ABOUT 'SHADOW BANS'
As Bari Weiss notes, Twitter executives long denied in engaging in this kind of censorship and manipulation. Although Twitter never uses the words "visibility filtering" instead of "shadow ban," it is a distinction without a difference.
WHO WAS CALLING THE SHOTS?
There were two groups at Twitter that were responsible for implementing the blacklists and shadow bans: one for common users and another for more high profile accounts.
The first group was called the "Strategic Response Team – Global Escalation Team."

The second group was called the "Site Integrity Policy, Policy Escalation Support" (SIP-PES) group. According to Weiss, this group was made up of high ranking Twitter executives.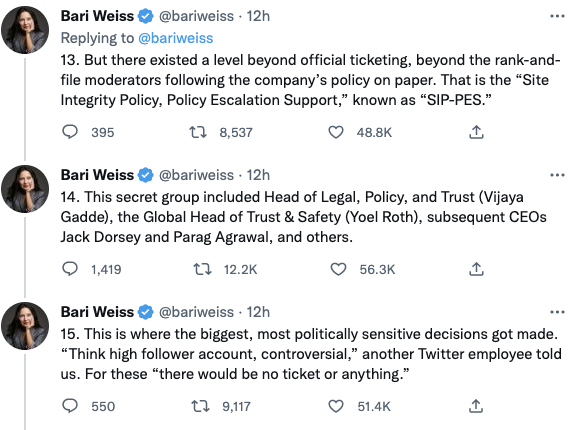 THE LIBS OF TIKTOK LIE
One of the the high profile accounts targeted by the SIP-PES group was the popular @LibsOfTikTok account, which, as its name suggests, reposts left-wing content from the video sharing platform TikTok.
According to Weiss, @LibsOfTikTok was suspended several times for, allegedly, violating Twitter's "hateful conduct" policy, claiming her posts encouraged online harassment of "hospitals and medical providers" by insinuating "that gender-affirming healthcare is equivalent to child abuse or grooming."
However, an internal memo shows that SIP-PES members knew that the account had not, in fact, violated the policy.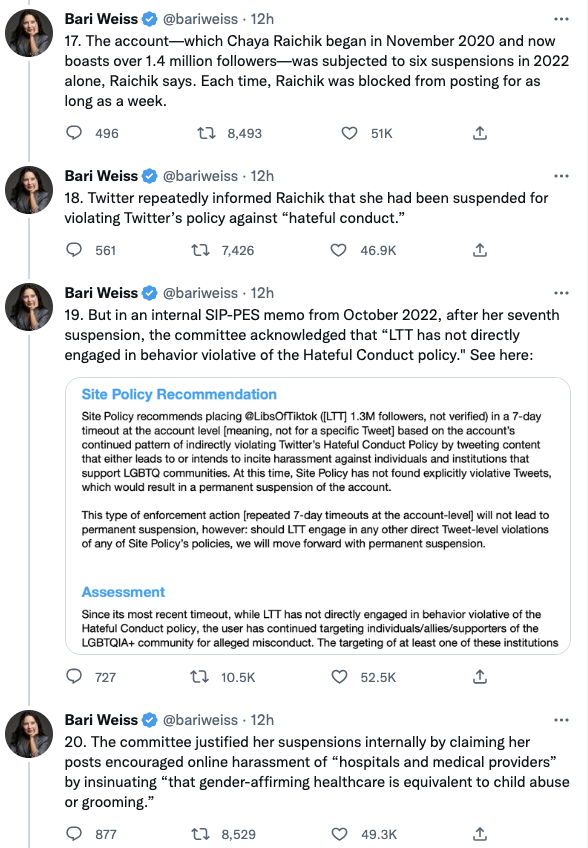 DIRECT MESSAGES AREN'T SO SECRET
As a number of observers have pointed out, it appears that Twitter employees have access to the Direct Messages of its users. The access can be seen on a screenshot of the dashboard that employees use to view user details.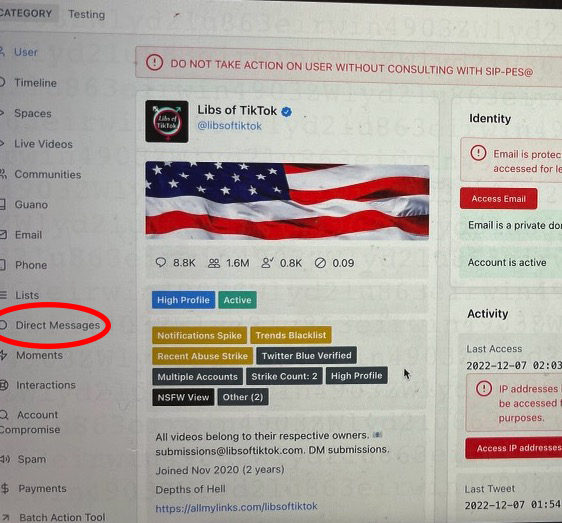 In response to the revelation, Elon Musk tweeted, "DMs should be encrypted, so that it is impossible for anyone at Twitter to see the public's DMs, just as it is the case with Signal or iMessage."
THERE'S MORE TO COME
We should expect more "Twitter Files" investigations to drop in the coming weeks. The next installment will be released by Matt Taibbi.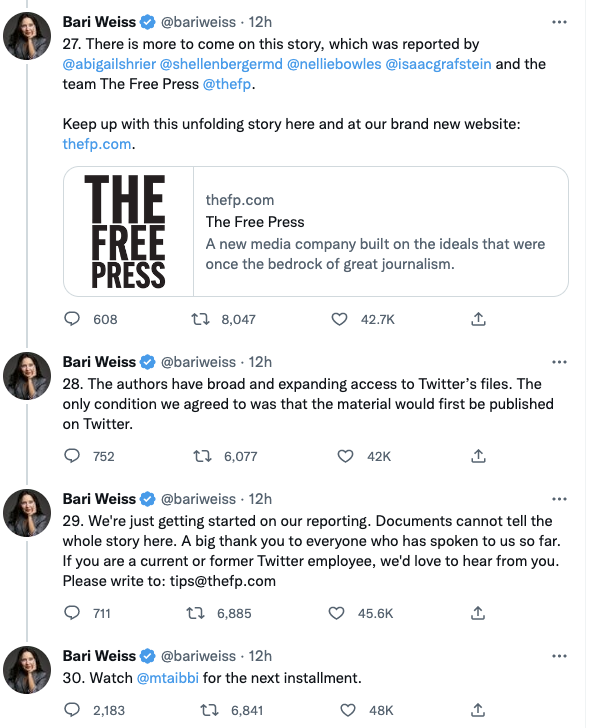 READ MORE: NAPGATE: Photos Emerge of Twitter HQ 'Bedrooms' that Prompted San Fran Investigation