As I write this on Sunday night, President Trump is speaking in Rome, Georgia, less than 48 hours before Election Day. Last weekend, the Bidens (Joe and Jill), along with Kamala Harris, blanketed the state in a last-mile push to flip what has been a safe red state to blue. With the race tightening, and Trump surging, and Biden fading in places like Iowa, Georgia has now become the key to 2020.
Here's how that happened. Field general of the Democrats, intelligent, confident, and ambitious Stacey Abrams, who has held no higher political office than minority leader in the Georgia house, was profiled on the cover of Time Magazine in July. She had a plan to "turn Georgia blue," and it was a good plan.
In September, 2019, Abrams, in a booklet with the self-aggrandizing title "The Abrams Playbook" predicted "[next] year, Georgia will be the premier battleground state in the country." It turns out she was right, and even if she could not have predicted coronavirus, the early vote, Democrats get-out-the-vote plan, and dissatisfaction among suburban centrists (especially women), was the right political seam to mine to make Georgia's three relevant races competitive.
Republicans went right along helping Abrams and the Democrats realize their dream to flip Georgia, and take one or even both Senate seats up for grabs. Sen. Johnny Isakson's 2019 retirement opened the seat for Gov. Brian Kemp to appoint a senator. Against the president's preference, he appointed Kelly Loeffler, a competent businesswoman with solid conservative positions, but no political history. Trump supported Rep. Doug Collins, who represented one of the "Trumpiest" districts in Georgia–and the fourth most R-plus voting district in America (rated R+31 by the Cook Partisan Voting Index).
This split the 2020 special election for Isakson's seat three ways: Loeffler as the appointed incumbent, Collins as the strong Republican challenger, and Democrat Raphael Warnock, a dynamic black pastor who commands the cherished pulpit of Dr. Martin Luther King. Since Loeffler's appointment was made too late to hold a primary by Georgia law, the 2020 special election will serve as both a primary and partisan election, known as a "jungle primary."
In this three-way free-for-all, Warnock holds a double-digit lead over his Republican rivals, but is well below the 50 percent plus one vote margin to win the seat outright. So that means he will face the top-vote-getting Republican in a January runoff, which will likely be awash with outside cash like we saw in the record-breaking 6th congressional district fight in 2017 between Jon Ossoff and Karen Handel. In that race, Handel won, only to lose in 2018 to Democrat Lucy McBath (backlash in suburban Atlanta for Trump's victory in 2016). (N.B. Handel is running again, in a close race with McBath, but polling is very sparse.)
Not to leave you hanging here; the polling shows a neck-and-neck race between Collins and Loeffler. It's pretty much impossible to predict who will face Warnock in the runoff. We will just have to wait.
As for the other Senate race, and speaking of Jon Ossoff, he's running again too, this time against Sen. David Perdue, who has unapologetically aligned himself with Trump, and has taken the hits for doing so. Currently, the polling shows a race too close to call between Ossoff and Perdue. If you want my personal opinion (and even if you don't, I'm giving it to you), it will be an absolute travesty if Ossoff beats Perdue, and an outright "hippety hoppity get off my property" old fashioned run-you-out-on-the-rails for anything remotely Trumpy. I think Perdue will win, but it will be closer than comfort allows.
Ossoff is literally a nobody. His resume, soaking wet and padded to the max, weighs about two ounces. His only political job since graduating from Georgetown, was as a minor staffer with Rep. Hank Johnson, who was assigned to the Armed Services Committee. For the final five months of that position, which Ossoff left to pursue a masters at the London School of Economics, he held a Top Secret clearance. One could say at least Ossoff's better credentialed, as a candidate, than Rep. Alexandria Ocasio-Cortez, but she's got him beat by 1,000 miles in the charisma department.
In any case, Ossoff is the reason Trump is rushing to Rome, Georgia, a small city of under 37,000 souls in the northwestern part of the state. I don't know why they picked Rome, which is very safely in Trump county. Rome is in the 14th congressional district, which elected Marjorie Greene a.k.a. Miss QAnon 2020 as the Republican candidate to replace retiring Rep. Tom Graves. Greene's Democratic opponent, Kevin Van Ausdal, withdrew from the race and left the state during a messy divorce, so she's basically elected.
It seems Rome is as good a place as any to "fire up the troops" and get Republicans to the polls in Georgia on Election Day. Turnout will be everything in Georgia, as it will be in most states. Democrats have largely voted by mail, and depending on the state, Republicans have shown up quite a bit in early voting. In Georgia, 3.8 million votes were already received as of Friday, October 30, the last day to early vote before Election Day.
Of those, more than 1.3 million were mailed in, and nearly 2.5 million were cast in person. In 2020, 50 percent more early or mail-in ballot have been received than in 2016 in Georgia, according to the Atlanta Journal-Constitution.
Trump, and Perdue, are going to need every vote they can get, statewide. Here's the play, as any competent basketball coach can diagram it.
If Georgia breaks early away from Trump, and let's say, by 10 p.m. we know Biden has won the state's 16 electoral votes, the election for POTUS is over. If Georgia flips, it's difficult to see any universe where Trump is going to take Florida, North Carolina, Pennsylvania, Wisconsin, Michigan, or even Arizona. He might take Iowa in that scenario, but if Georgia flips, it's over, early and quick.
Let me give you a quick sports analogy of the emotional state of Georgia Trump supporters, and even of Republicans who might have held their noses and voted for Trump without any enjoyment, if the state goes to Biden. As a Red Sox fan, I endured many years of teams that just reeked of loser-itis. The pinnacle of this was in 1986, during game six of the World Series against the despised Mets. When Mookie Williams weakly hit grounder skipped between the legs and under the glove of Red Sox first baseman Bill Buckner, there was a noticeable power surge in New England. That's because every television set in the six-state region was simultaneously switched off in a spasm of disgust and nihilism.
This will be the reaction in red-state Georgia, to tune out as the rest of the evening will be filled with MSNBC, CNN, CBS, NBC, and every major newspaper dancing with drunken abandon on Trump's grave, in a stomach-churning celebration of their most coveted dreams.
This is a really big problem. If Trump loses Georgia, Warnock still has to face a Republican opponent in a January runoff. If Trump loses Georgia, it's very possible that Sen. Perdue will lose his seat to, ugh, Jon Ossoff. Honestly, to me, that's far more worthy of disgust than Trump's loss, but the two are very tightly tied together.
If Trump loses Georgia, Democratic voters are going to be very energized to come out and vote in another senate candidate in January, while Republicans are going to have a very hard time motivating their base. Oh, sure, there will be non-stop ads and "stop Schumer!" flyers, mailers, billboards, and online opinions. Surely, it's important to provide a firewall against Biden and a Democrat majority in the senate from packing the Supreme Court, and ending the filibuster.
But emotionally, Georgia Republicans might not have it in them to do it. After the emotional roller coaster of the election, watching the elation of political enemies celebrating with the heads of Republicans figuratively decorating their lawns mounted on a pike, and, frankly, being worn out and exhausted from the political division, I see Republicans just checking out and staying home.
If elections were decided based on rational, detached analysis, the best thing for Republicans to do would be to swarm to the polls in January, and keep at least one (if not both, depending on Perdue's results) senate seat. But elections are not rational (hence, we have two men competing for the "old person smell" award in the White House).
Georgia is the key, and Tuesday is the day. Currently, there are 53 Republicans and 47-ish (including Bernie Sanders and Angus King) Democrats in the senate. If all races are decided, and Georgia's two senate seats stay Republican, the worst case scenario seems to be 50-50, though it's possible Democrats could still take the Senate.
However, if both Georgia seats flip, Democrats could have a 52-48, or even bigger, majority. That, plus the White House and the House of Representatives, equals a triple-play of hegemony. Here's my version of that: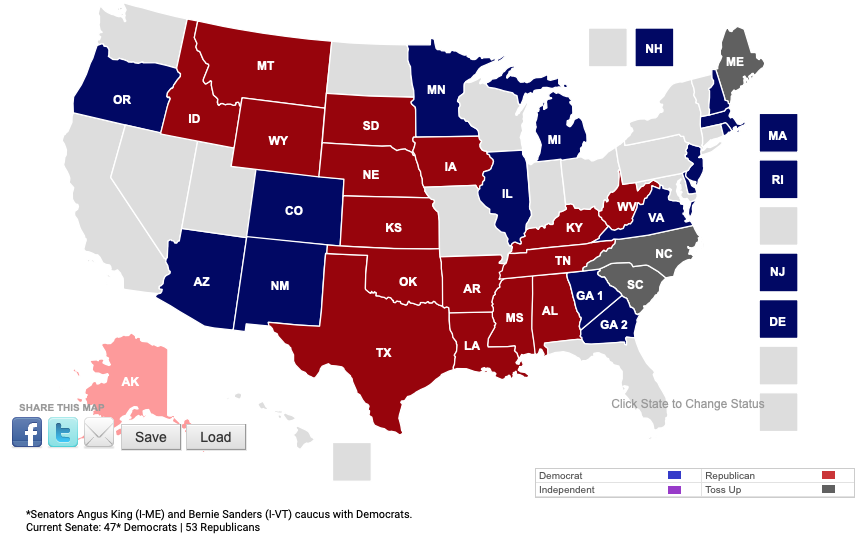 This is why President Trump flew to Rome, Georgia tonight. It's why the Bidens spent a lot of time in the state. It's why Stacey Abrams, who wanted to be in Kamala Harris's shoes, has a future as a genius planner in the Democratic Party. It's why Jon Ossoff, a nobody who has done nothing, may find himself in the U.S. Senate. It's why we may all go to bed early on election night, knowing that the landslide will proceed without us watching,
Georgia is the key to all of it, and Tuesday is the day we will know.
Follow Steve on Twitter @stevengberman.
The First TV contributor network is a place for vibrant thought and ideas. Opinions expressed here do not necessarily reflect those of The First or The First TV. We want to foster dialogue, create conversation, and debate ideas. See something you like or don't like? Reach out to the author or to us at ideas@thefirsttv.com.