Sonny Perdue was a two-term governor of Georgia, and most recently the Secretary of Agriculture under President Trump. Now, he wants to serve as the chancellor of the University System of Georgia. But the leftists who preside over those schools must cancel him, so they keep playing the same broken record trying ever harder to create a scandal out of nothingburgers.
I first met Sonny when he attended a men's prayer breakfast in Warner Robins, Georgia, where I lived for 26 years. "I was small, but I was slow" is how he described his time playing football at Warner Robins High School. He started as quarterback in his junior and senior years. That's the kind of self-deprecating humor that belies a very intelligent and well-rounded man who served two terms as a popular Georgia governor.
The WRHS Demons were terrible when Perdue played high school football but nonetheless, he made a mark for himself, gaining honorable mention from the Atlanta Journal Constitution for the 1964 All-state honors. He was good enough to play as a walk-on for the University of Georgia, where he attended and earned a doctorate of veterinary medicine (DVM) in 1971.
After a fairly successful (at least scandal-free) stint serving as head of the USDA under President Trump, Perdue now wants to run the University System of Georgia. Educators and liberal media are horrified. In reality, Perdue is plenty qualified to do the job as chancellor, and not the boogeyman they make him out to be.
Yet the parade of dirt keeps coming, as if it's being spoon-fed from an opposition research file to reporters. (Hint: it probably is.)
The latest is being billed as some kind of exposé by Washington Post reporter Desmond Butler, in which Perdue is being accused of peddling influence to ag giant ADM in exchange for buying an old grain plant in South Carolina for a song. The key paragraph here is about as proof-y as you can get that this article came from a dirt digger:
Had anyone noticed, it would have prompted questions ahead of his confirmation, a period when most nominees lie low and avoid potential controversy. The former governor of Georgia did not disclose the deal — there was no legal requirement to do so.
Of course it was noticed (everything is noticed), but it was a nothingburger of an accusation, and it still is. Over the years, Perdue has been accused of fixing land deals much larger than this one. In 2017, when Sonny was tapped by Trump to be the Secretary of Agriculture, a story surfaced in the AJC that had previously been published in 2012. That one dealt with the land Perdue owns in Houston (pronounced "How-stun," don't dare say it like the Texas city) County, where he's had his home all his life.
That story involved $4 million of state buget funds diverted to purchase Oaky Woods, forest land adjacent to Perdue's land. The state also opened a Go Fish Education Center, a fishing initiative under Perdue's administration, in Bonaire, for $375,000. All of this was done legally, but the AJC tried to cast a shadow of hanky panky over Perdue's dealings.
The AJC brought this back up in 2017 to try to discredit Perdue and derail his confirmation. In fact, Perdue was confirmed, and during his tenure, he faced no scandals like the one that knocked fellow Georgian Tom Price out as HHS Secretary.
Perdue told Gov. Brian Kemp that he's willing to serve. The AJC all but admitted Perdue is qualified for the position, but his service under Trump would be by itself disqualifying—conveniently attributing that to "critics," of which the AJC happens to be the leading organization.
Perdue's critics are concerned about the conservative stances he took during his two terms in office and later as one of Trump's highest-profile supporters in Georgia. They say a veteran administrator with university experience – and not a powerful former politician – is needed to shepherd the system.
And there's the reason educators hate Perdue: He's too conservative for them. It's not Perdue's qualifications, or his connection to Georgia educational institutions, it's his "values."
The liberal educators on the Board of Regents have managed to slow down the naming of Perdue as the next chancellor, citing "confusion." They're the ones who have sowed confusion. In a May editorial in Athens, Georgia's local Flagpole Magazine, Frederick Key Gulliver (who also published this on the liberal Creative Loafing website) offered ten reasons Perdue shouldn't be chancellor.
Gulliver called it a "rank political favor." He brought up the Oaky Woods land deal. He delved into Gov. Kemp's time as Secretary of State and the nothingburger lawsuit regarding a data breach at Kennesaw State University's server that housed election records. And finally, he brought up the Confederate battle flag in the state flag, which was a raging issue during Perdue's term.
An astroturf organization called "Students Against Sonny," with all of 346 followers, started a petition that garnered 1,521 signatures so far (there are 333,507 students in Georgia's university system). A few activist students and a staff member were interviewed by Georgia State University's student newspaper, The Signal. I wouldn't call this evidence of widespread opposition.
Opponents of Sonny Perdue have nothing more than they had in 2012 and 2017. The Washington Post spilled 10,000 words on a $250,000 deal to buy an old grain plant, that ADM had been trying to sell since 2015, and Perdue picked up for a song. He later sold the boiler for $500,000. Both ADM and Perdue claim there were no special favors.
ADM's lobbying budget in 2019 was $2.14 million. During the Obama years, from 2009 to 2014, ADM spent an average of $1.7 million per year on lobbying activities, employing around 13 lobbyists. In 2016, that fell to just four, but the lobbying budget ramped up during Trump's term. You'll note that during election years where the presidency is up for grabs, ADM's lobbying budget also goes up. This is fairly typical.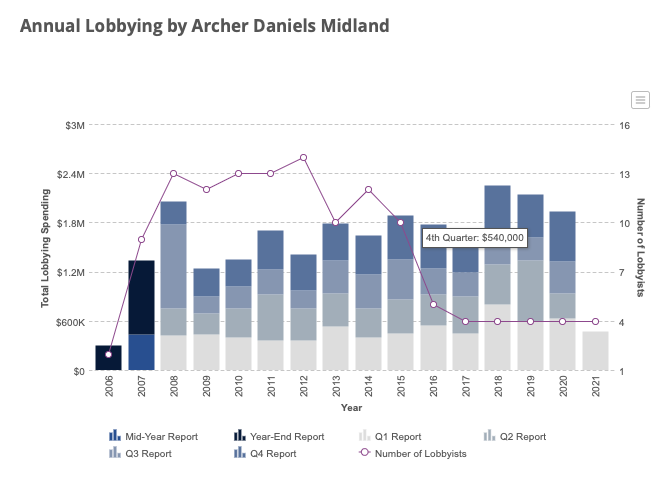 There's no evidence that ADM targeted Perdue for some kind of sweetheart deal. No laws were broken, and Perdue's companies and properties accrue a much larger value than a small, unprofitable, and decrepit grain plant in South Carolina.
The liberals and educators in Georgia don't want Sonny Perdue as the next chancellor of Georgia's university system. Their only reason is that he's a Republican, and a conservative. But his biggest sin is that he served under Donald Trump. Therefore he must be purged at all costs.
The hate campaign will continue like a broken record. I hope Sonny gets the job, and does it competently, like all the other positions he's held. But they'll never stop hating him for his "values."
Follow Steve on Twitter @stevengberman.
The First TV contributor network is a place for vibrant thought and ideas. Opinions expressed here do not necessarily reflect those of The First or The First TV. We want to foster dialogue, create conversation, and debate ideas. See something you like or don't like? Reach out to the author or to us at ideas@thefirsttv.com.