When Joe Biden made his big anti-MAGA speech last week, it drew howls from Republicans and Trump supporters. They attacked the president for attacking political opponents with what they charged was overly broad and overheated rhetoric that tarred half the country. (Nevermind that Biden's criticism was aimed squarely at "MAGA Republicans.") However, only a few short days after Biden's speech, Donald Trump made a speech of his own that underscored the president's point in many ways.
The speech was ostensibly a campaign rally for Dr. Oz's flagging Senate campaign in Pennsylvania, but as with anything that Trump touches, it became all about The Former Guy. At the rally, Trump spent the balance of his time attacking both the FBI and Joe Biden as well as Democrats in general and devoting little of the speech to Dr. Oz or gubernatorial candidate Doug Mastriano.
First, I have a confession. I watched Biden's speech in its entirety. I was going to watch Trump's as well, but it weighs in at a monstrous two hours while Biden's was only half an hour. Since I never got the checks that I was supposed to get from the Never Trump Media Association, I don't feel the need to torture myself with an unabridged viewing of The Former Guy's ramblings in Pennsylvania. If Trump can keep the duration of future speeches closer to a sit-com time frame rather than a feature-length presentation, I'll consider watching the whole thing. As it is, I'm using reports from various media sources. If you are so inclined, you can watch the speech here.
Rather than a rally for Oz, the night seemed like a rally for Donald Trump. Trump went on a tear in which he called Biden's speech "most vicious, hateful and divisive speech ever delivered by an American president."
Trump said of Biden, "He's an enemy of the state. You want to know the truth. The enemy of the state is him."
The former president also claimed, "Republicans in the MAGA movement are not the ones trying to undermine our democracy. We are the ones trying to save our democracy, very simple. The danger to democracy comes from the radical left, not from the right."
Yet, only days before Biden's speech, Trump posted on Truth Social that he should be declared the "rightful winner" or that he should get a do-over and the 2020 election should be held again. Which of these is the constitutional solution? If you said "neither," you are correct.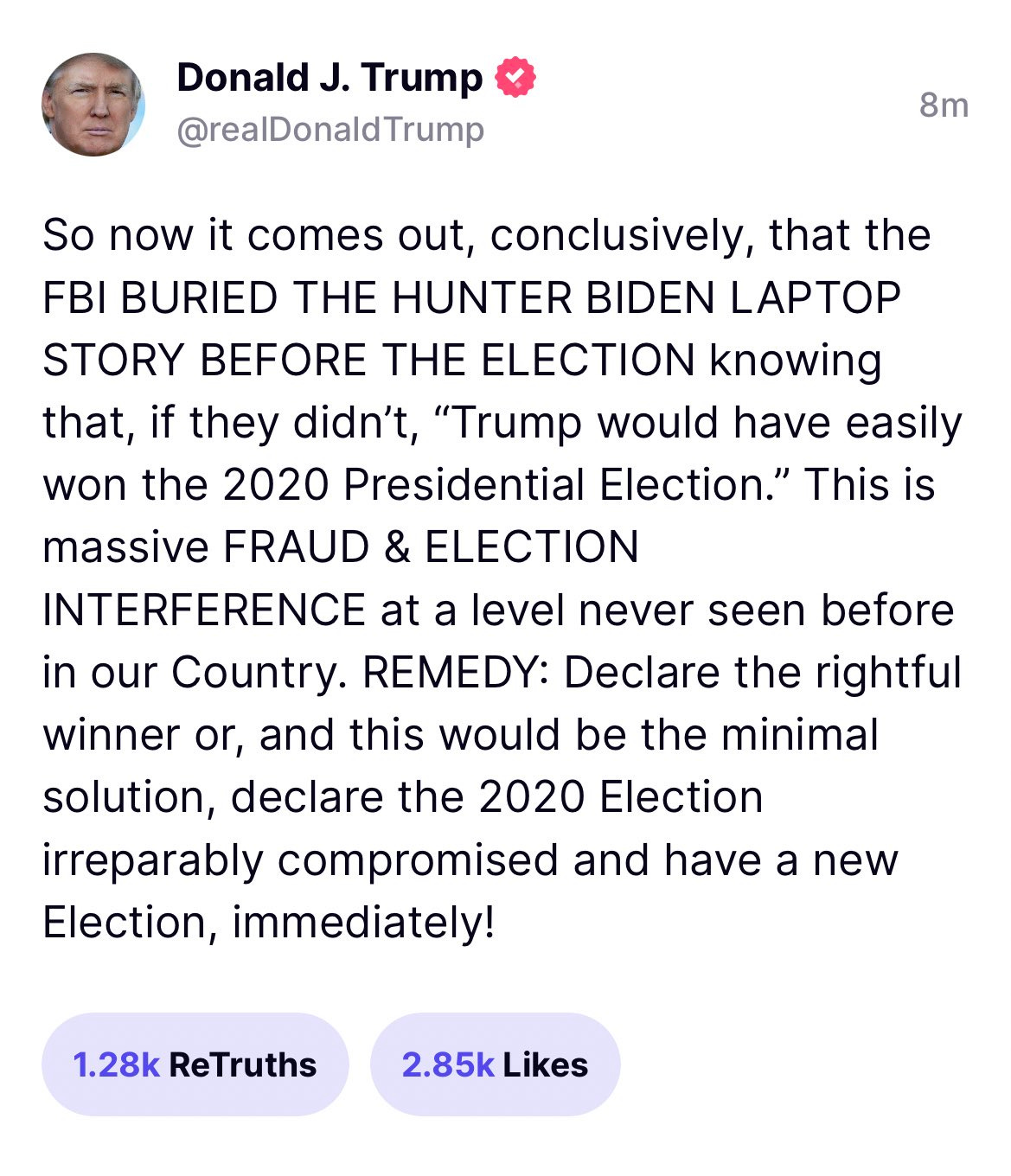 It was not Biden and the Democrats who sued to overturn election results in several states and made countless unfounded allegations about widespread voter fraud, allegations that were not followed up with proof in court. It was not Biden and the Democrats who sent rioters to block the constitutional transfer of power. It was the former president, now out of office, who assumes himself to be "the State" in calling Biden an "enemy of the state."
Days before the rally, Trump said that he would "very, very seriously" consider pardons for the January 6 rioters. Those would be the same criminals who ransacked the Capitol in an attempt to prevent the Electoral College and Congress from fulfilling their constitutional duties.
The photo of one of those rioters recently went viral after Cynthia Hughes, the leader of a group defending the January 6 rioters, spoke at the rally. She described the case of her nephew, Tim Cusanelli, who was convicted for his role in the Capitol attack. Cusanelli is a Nazi sympathizer who sports a Hitler mustache and was kept in jail by a judge who was concerned that he would act on his violent rhetoric if he was freed.
When it came to the FBI, the agency was also deemed to be an enemy as Trump termed the warranted search of Mar-a-Lago "one of the most shocking abuses of power by any administration in American history" and "a travesty of justice."
Yet the FBI search seems to be both legal and justified. The search reportedly turned up numerous documents classified at the highest levels of secrecy. These documents were allegedly found in shockingly shoddy states of care. That includes 48 empty folders marked "classified" with no indication of what happened to the documents that belong inside.
As Judge Andrew Napolitano pointed out in a recent Washington Times article, Trump has inadvertently admitted to breaking the law in retaining these documents. In arguing that the documents were declassified, Trump missed the entire point of the search. It wasn't merely that the documents were national secrets, they were government property and contained national defense information. Trump did not have a right to keep the documents whether they were classified or not and his claim that the documents were declassified may have undermined his legal defense. It's tough to disavow knowledge of the documents when Trump is saying that they were there and he declassified them.
Since the legal arguments aren't working for him, Trump relies on emotion, telling Pennsylvanians, "It was not just my home that was raided last month. It was the hopes and dreams of every citizen who I've been fighting for."
Trump also seemed to make a veiled prediction of violence, saying, "This egregious abuse of the law is going to cause a backlash the likes of which we've never seen before."
What did he mean? Well, we've seen Republicans win elections before so it doesn't seem that he was speaking electorally. He seems to have been referring to something else. This could be a prediction of violence, but the vague term is open to interpretation. I would say that many of Trump's supporters would likely understand this to mean violence, even if they won't say so out loud.
In a particularly bizarre moment, Trump related the story of a dinner with Mark Zuckerberg that supposedly occurred "last week" at the White House.
"Last week, the weirdo — he's a weirdo — Mark Zuckerberg came to the White House, kissed my ass all night," Trump said ."'Sir, I'd love to have dinner, sir. I'd love to have dinner. I'd love to bring my lovely wife.' All right, Mark, come on in. 'Sir, you're number one on Facebook. I'd like to congratulate you.' Thank you very much, Mark. I appreciate it."
Of course, Trump has been out of the White House for almost two years and off Facebook for about the same time. If Biden made such a gaffe, there would be widespread accusations of dementia. I'm not going to accuse Trump of having dementia (or of being demented), but it's tough to explain this one.
Trump also claimed that Democratic senatorial candidate John Fetterman is a "socialist loser" and claimed that he used a laundry list of illegal drugs. Trump did not offer any evidence that Fetterman uses illegal drugs.
The bottom line here is that Trump's recent behavior lends credence to Biden's warning. Trump almost seems to go down the list checking the boxes from Biden's speech.
Blind loyalty to a single leader ✔️
No rule of law ✔️
Election denial ✔️
Undermining Constitution ✔️
Undermining institutions ✔️
Threats of violence ✔️
There are two schools of thought on the dueling arguments surrounding the Mar-a-Lago search. One is that the government laid a trap for Trump and the other is that Trump laid a trap for the government. I don't discount that both sides think they laid a trap for the other and I agree with Steve Berman's prediction this morning that Fulton County Ga. DA Fani Willis will likely be next in Trump's sights.
However, there is a saying that if you give a man enough rope he will hang himself. I think that's where Trump is. He has pulled out a lot of rope, but he's finally running out of slack.
That's true despite the surprising ruling from US District Judge Aileen Cannon that not only granted Trump's request for a special master long after the FBI filter team had already gone through the seized documents from Mar-a-Lago but also temporarily enjoined the DOJ from using the seized cache of documents in a criminal investigation. This order may grant Trump a temporary reprieve from an indictment, but it is also likely to push the legal wrangling into the 2024 election cycle. As I've said many times, Trump is a living, breathing constitutional crisis.
I'm no lawyer but I don't think the order will stand if the DOJ appeals. Former presidents don't enjoy executive privilege. This is especially true when the fracas is with an executive branch agency and regards documents that don't belong to them. Executive privilege is typically understood to be used against other branches of government, not against another executive.
Additionally, pre-empting a federal investigation on the basis of "fairness" is unusual in itself. Few other citizens would get such preferential treatment from the judicial branch.
This is bad news for Republicans because when the public looks at Trump, it doesn't like him. When Republicans defend Trump, it doesn't like them either. It's no coincidence that Republican candidates began to falter as Trump reemerged into the public eye (although Democrats also benefit from lower gas prices and easing inflation). If Biden's plan was to shift the midterm elections from a referendum on his Administration to a referendum on Trump, that plan is working.
Trump may have attempted to lay a trap for the FBI and the DOJ, although I don't really believe that he thinks that far ahead or that strategically. I think he's just reacting the way he always does, by riling up his base against his tormentors and attacking relentlessly.
But this time, Trump is clearly in the wrong even if the wheels of justice may turn slowly. In fact, they are still turning with regard to his attempt to steal the 2020 election as well.
Without his status as president to protect him from indictment and prosecution, Mr. Trump may well find out very soon that it is far more difficult to outmaneuver the Department of Justice when you are a private citizen than when you are the chief executive. The overconfidence that was spawned by years of getting away with everything may yet prove to be Donald Trump's undoing.
Will his supporters take to the streets in an unprecedented backlash if Trump is indicted or sent to jail? We already know that some Trumpists are ready to go to prison or even die for the MAGA leader, but I think that comparatively few will take that course, especially after seeing that the DOJ took the politically-motivated violence of January 6 seriously.
Some Trump supporters will do stupid things and join Trump in jail, but a great many would breathe a sigh of relief. That includes a great many elected Republicans although they would never, ever say so out loud.
The First TV contributor network is a place for vibrant thought and ideas. Opinions expressed here do not necessarily reflect those of The First or The First TV. We want to foster dialogue, create conversation, and debate ideas. See something you like or don't like? Reach out to the author or to us at ideas@thefirsttv.com. 
Follow David Thornton on Twitter (@captainkudzu) and Facebook