For this week's "BCC" interview, I emailed with MSNBC anchor Ali Velshi, host of the new "Velshi" on Saturday and Sunday 8-10amET. Velshi and I were colleagues at CNN for several years, and friends before then. We…don't necessarily agree on the media in the Trump Era.
Below is the full email exchange between myself and Velshi. To read the last "BCC Interview" with Vox's Jane Coaston, click here. And click here to subscribe to the Fourth Watch newsletter.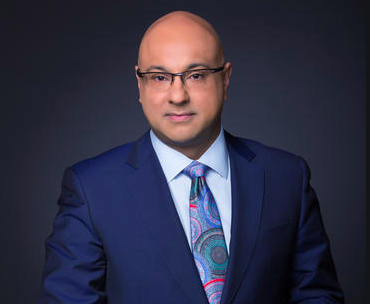 To Ali Velshi
From: Steve Krakauer
Hey Ali-
Thanks for doing the BCC Interview. We'll publish this in full…
First, congrats on the new weekend show, "Velshi"! Love the look – and music. And it seems like a great format for you. I wonder what you think is missing in the cable news landscape, and how the show will look to fill that need. I remember back when we were working together at CNN – usually over drinks at Coliseum – we would talk about the need for more nuance and deeper conversation and discussion on cable news. Do you think this allows you to dig deeper than other show formats?
And as you may know from reading the newsletter, I think the cable news landscape has shifted a bit over the last several years, particularly at our old home at CNN. But looking across the media, post-Trump – do you see there's a greater scrutiny on the executive branch than there was, say, from 2009-2016? Do you think there's something personal there – feeling personally attacked by Trump, and responding in turn? 
Feel free to throw any questions my way too…
Thanks,
Steve
---
To: Steve Krakauer
From: Ali Velshi
Steve,
I remember those days at Coliseum fondly. It makes me feel old to say those were simpler times, but they were.
The needs I'm hoping "Velshi" will fill aren't different than those we discussed years ago; they are just more acute. Where I thought we needed greater nuance and depth, now I'm happy when people with contrasting views can have a respectful conversation! What I'm most worried about is how debate has been largely replaced with an effort to defeat those with whom we disagree. As you and I have discussed, society isn't better when we extinguish the voice and argument of those who oppose our views.
So my main effort will be to set the table for those debates. Cut through the fog and try to establish the shared facts of an issue. At the heart of my concern is the failure of capitalism to stem the growing global tide of inequality. That has caused people to doubt capitalism itself. And it has caused capitalism's defenders to call its detractors "socialists." Capitalism is the plumbing. When your plumbing stops working properly, you don't abandon it; you try to fix it. And wanting to fix the plumbing doesn't make you "anti-plumbing."
The new show format (which is still very much a work in progress) will allow me to examine disparity in greater detail and, I hope, vigorously debate its causes.
Your question about greater scrutiny is interesting. Charlie Savage of The New York Times wrote a book several years ago about the gradual efforts by the Executive Branch to grab more power from Congress. It happened under Clinton, Bush 43, Obama and now Trump. But Americans have spent so much time hating Congress that no one stopped to defend the institution until its was on its last legs. And power grabs are in the eye of the beholder: if your team is doing the grabbing, it's probably ok.
That said, I'm reminded that in 2009, in the early days of the Obama administration and the stimulus bill, I relocated to Atlanta for several weeks with a team and we called recipients of the stimulus money to see whether they had actually used it to create jobs. The Obama administration was furious at our effort and felt we were picking on them when the whole country – media included – should be focused on getting out of recession. So I come by my executive scrutiny honestly 🙂

A couple of years ago I wrote privately (in a somewhat heated exchange) that the media were in a battle with Trump for its integrity and that, in addition to proving our worth in our reporting, we DID have to fight back against the accusations of bias. The person with whom I was corresponding suggested that entering that battle was ill advised. I've been tossing that around in my head since then, unsure of what the right response to the daily attacks from the President should look like, and what, ultimately, is most productive and useful for our audience. I haven't completely worked that out. I wonder if the person with whom I was arguing back then has greater clarity on the issue.
That person, you may recall, was you 🙂
---
To: Ali Velshi
From: Steve Krakauer
Hey Ali-
Ha…well that does sound like me. I think what you describe as "fighting back against accusations of bias" can often quickly move from a productive premise to a self-defeating exercise – when often times it only proves the point the media is fighting against. Trump picks a fight with the media, knowing if the media fights back, it will often devolve into an appearance of impropriety. And that's because so often the fight is not over what is ACTUALLY happening, but hypotheticals or feelings – it's how something LOOKS, or what MAY happen, or it assigns motives to an action – it's psycho-analysis that gives the game away. We all have biases…and certainly from my conversations with people in the media and people in my everyday daily life, there is a major divide in the severity of feelings about what Trump's presidency means. Look – I think Jim Acosta is the greatest example of what's wrong with the media today, and if Trump throws him in jail, I'll be the first to march in the streets. But it's not reality to say he's simply doing his job as a journalist – at least by any pre-2016 standards. I guess…what I'm missing?
Your comments about capitalism versus socialism is interesting, because I wanted to ask you about another polarizing politician – Bernie Sanders. Do you think the media is going through an adjustment period, again, as Sanders looks ever more like the eventual Democratic nominee? Does MSNBC and the rest of the media need a recalibration? Are they properly giving Sanders his due – and, on the other hand, properly vetting him? It feels in many ways like 2016 all over again. 

---
To: Steve Krakauer
From: Ali Velshi
Steve,
Sorry for the delay – the market reaction to Coronavirus has eaten my life.
I think there is the media at large, and those who cover Trump and his administration up close, either as part of the proximate press corps, or as people like me who's coverage of the Administration is central to what I do. Let's talk about the second group here. As journalists, our first and greatest responsibility is to bear witness to what is happening, which is why I resist calls from people who say "don't even cover him", or "don't air Trump live." He IS the president and can, at any moment, create policy that affects us in serious ways.
But our second responsibility as journalists is as great: hold power to account. We do this some days better than others, and we try different approaches. Where you and I can agree is that we both defend freedom of expression. My approach tends toward the less confrontational but that does become difficult when the president undermines the very credibility many of us nurture every day. And it is, sometimes, difficult to separate the general criticism (some of which is valid some of the time with respect to some journalists or outlets), from the specific. What I've tried to do is concentrate on my little part of the world and be neither critic nor defender of my industry as a whole.
Ahhhh….Bernie Sanders. So, two things:
The first is that (apropos of my comments above) I'm happy to hold up the example of my won coverage of Sanders. As I tend to do, I focus on his policies, read them, examine them, break them down and explain them, often visually, for my viewers. And I interview his surrogates regularly, and him from time to time. The interviews are content rich, and generally issues based (rather than horse race stuff) and I believe my audience comes away from them better informed.
That said, I don't think the media should get too used to someone being "the eventual nominee", because that does undercut the process that continues to unfold. Every single day, no matter whom I cover, I get tweets from supporters of other candidates saying that I don't support their and that my corporate overlords won't let me support them and that my biases are as clear as day. I don't support any of them; that's not my job (and I think you'd agree). I've interviewed most of the democratic candidates and I compliment their policies that make sense and criticize where necessary. And none of it comes from any corporate overlords, although I do enjoy using that term 🙂
The Sanders campaign is due fair coverage, and the viewers are due fair vetting of the candidates, and that's what I intend to give them on "Velshi".
Best,
Ali
---
To: Ali Velshi
From: Steve Krakauer
Hey Ali-
Makes sense on Sanders. I do think there's been a correction that has started from the non-Fox cable networks, that mirrors the correction that took place from Fox News when it came to Trump in '15-'16. It went from some version of 'this can't be happening' to 'this is happening and we have to adjust.' Do you think media outlets that regularly have pundits on to pontificate owe it to their viewers to have on individuals who can smartly and effectively echo the messaging of their preferred candidate – whether it be Sanders, or Trump?
Last thing – I'm fascinated by the Twitter effect on our media coverage… the way it can give outsized influence on irrelevant stories for most Americans, and can speed up an already fast news cycle to hyperdrive. But on the positive side – what is an account or two you think is worth a follow, that people may be surprised you enjoy?
Thanks for doing this, and looking forward to seeing the development of "Velshi"! (8-10amET…Saturday, Sunday… got to get the plug in…)
---
To: Steve Krakauer
From: Ali Velshi
Steve,
What I think journalism "owes" society is to bear witness, and speak truth to power. The first part means we have to tell people whats happening – including the noteworthy things that candidates for office or office holders have said. The second part of that is that we should be examining and criticizing (or, I suppose, sometimes complimenting) actions on their merits. If having guests on who can, as you say, smartly and effectively echo the message, allows us to hold that message up to scrutiny, then the audience likely benefits. I tend to take this approach on my shows: book the guest who best articulate the message that requires analysis, and then critique it. The problem is determining what requires analysis, and what is just nonsense. And this is a work in progress.
I follow about 8,000 people on Twitter and while I often get frustrated with Twitter, I do think the benefit of social media is if you deliberately use it for the opposite reason that it was invented, to get out of your socio-economic and political bubbles.
For instance, I watched the last debate with Twitter in hand and realized that I have curated those I follow well, because there was no consensus about whether the moderators were good or bad, or the candidates should be attacking each other or Trump. Twitter, on it's best days, is Roosevelt's "arena" or Athens' "polis". My point being, my best follows are people with whom I either don't personally agree or with whom I don't share life experiences.
Given that I don't want to call out disagreement, I won't single anyone out. But at the end of one of my occasional twitter "exchanges" with a critic, I'll often end with "thank you for engaging". And I mean that honestly. Twitter is actually the place where I come up against good intellectual criticism most regularly.
Ali