This week's BCC Interview is my good friend Will Cain, who recently left ESPN and joined Fox News as co-host of Fox and Friends Weekend (after a lengthy road trip across America). Will and I worked together at CNN and later at TheBlaze, and he's someone on the national stage who I think is most interested in the ethos of Fourth Watch – intellectual honesty, intellectual consistency, intellectual curiosity and intellectual discomfort.
Will and I emailed this week what made him leave ESPN for Fox, Twitter pros and cons, his personal experience with charter schools and education and a lot more. And then, with all BCC Interviews, I published it in full, below. Check out past BCC Interviews with Fox News' Greg Gutfeld or Ben Smith of the New York Times, and subscribe to Fourth Watch here. Read the full interview below…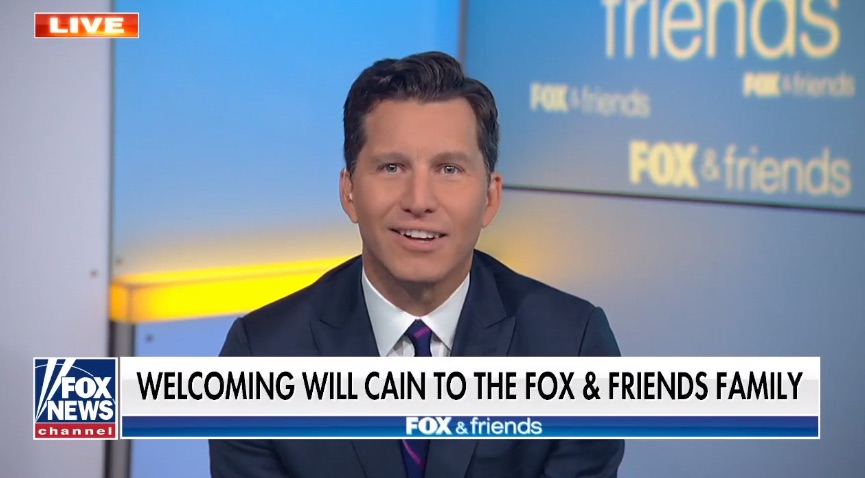 From: Steve Krakauer
To: Will Cain
Hey Will-
Well… glad to take our discussions about the state of the media and everything else public for the first time ha. A lot I want to talk about but…first of all, congrats, officially on the new gig. You left a prime spot on ESPN radio and throughout ESPN TV for a new opportunity at Fox News, which you, officially, started this week at Fox and Friends Weekend. I guess let's start there – what ultimately made you make the move, from sports to news? Not to preempt your answer, but in some ways sports and news have never been more intertwined. Just today the president of the United States is RTing one of the top college football players today about playing during the pandemic. And of course, social justice has become a massive story in the world of both news, and sports.
On a separate topic, viewers will know from following you on Twitter and Instagram that you and your family just completed a road trip around the country over the past few weeks. A pandemic seems like a great time for that (as of course does time between jobs). What did you learn in these past few weeks? What lessons about America, about the people who are outside of the Acela Media (as I've dubbed the NYC-DC media scene)?
And feel free to throw any questions my way…
Thanks
---
From: Will Cain
To: Steve Krakauer
Steve,
Thanks man! I'm excited. A little nervous, but really excited.
I loved my time at ESPN. I loved the people I worked with everyday, I loved the audience, and I loved doing the Will Cain Show everyday. But I made the move from ESPN to Fox for three reasons.
1. I got to know the people at Fox News. I already knew my new co-hosts Pete Hegseth and Jedediah Bila and was happy to reconnect. Trust and respect are rare, too rare, in this business and to be able to work with people that I like, that will make me better, and with who I'll have fun meant this was a rare opportunity. But I also got to know Suzanne Scott, Lauren Petterson, and Gavin Hadden and these were people I felt confident would help shape my career.
2. I wouldn't have moved any place else but FOX News. No other platform has the reach and influence, but more importantly no other place has the backbone of Fox. I've spoken about fear driving decision making in corporate America, it does not at Fox. Fox is independent and strong.
3. The moment. I've been happy to check out of politics and debate Dak Prescott versus Carson Wentz for the last five years. But times have changed. Values and principles that are at the core of who I am, that I want to teach my sons, and are at the core of the founding of the United States of America are being questioned and rejected. I can't sit on the sideline and debate about the Texas Longhorns while the country is destroyed. (I'll still find time for sports.) I need to be in this debate; in this fight.
Man, our road trip was incredible. We saw 15 states, drove 7,000 miles, and visited five national parks. America is stunning. Every state. But even more impressive is her people. They are obstinate..and considerate. They are independent…and generous. They are innovative…and resilient. America is hurting but our character is strong.
A couple of quick specific things I picked up. People aren't yelling at each other in grocery stores. The vast majority have their ideas about masks and distancing but are considerate of others decisions. They're rational about their own risk assessment but sympathetic to others. Trump has more support than polls show but he has work to do with conservative women. If NFL players protest and kneel in mass numbers during the national anthem many, many sports fans will be done with the NFL.
---
From: Steve Krakauer
To: Will Cain
Hey Will-
That point you make about the people you've encountered in your 15-state road trip is really interesting to me, and certainly resonates with what I've seen and believe too – people are generally far more considerate of others and less divided than the media portrays. And that's likely because people are complicated, and messy, with all sorts of life experience and points of views that don't easily fit into one of the boxes that cable news often portrays. The temperature has been raised so much by media forces – legacy, but also new media platforms like Twitter – and I think a lot of non-media people are sick of it. So, that's a long way of saying…how do you be part of the solution, not part of the problem, in your new role? Your ESPN show had that ethos baked into it – an embrace of nuance – how does that continue in what you do next?
And let's get meta for a second – you've been on a massive media tour this week, which is great man, honestly, because you really deserve it. I'm going to try to avoid asking questions you've got from LeBatard or Clay Travis, Mediaite or The Big Lead, and who knows what else you've got coming. But… tell me about this week, and your re-entry into the news media landscape? Has anything surprised you – questions you've gotten, reaction you've gotten? Have you heard from anyone in the industry who's said "don't tell anyone, but I agree with what you said to Clay Travis"?
---
From: Will Cain
To: Steve Krakauer
I don't know yet. That ethos was baked into The Will Cain Show because it's baked into me. I authentically have strong opinions and feel passionately about ideas. I can run hot and get mad. But I'm also curious about other people, want to engage with those who think differently, and don't take myself too seriously. I'll admit when I'm wrong but I'm not going to compromise just to make nice. Still I want to connect and understand and I don't stay mad. I get over it through interaction. I don't know yet how I'll bring that to Fox and Friends and the network but I imagine it will be inevitable because it's who I am.
You know, I guess I'm a little surprised by how cool everyone has been this week. What I mean is, when you're in a heated debate on television, or you have a viral moment because you espoused an unpopular opinion, or you stood out from the safe herd of group think in any way, it can seem like your entire industry takes to social media to tell you how they really feel. And many of them do dislike you for your opinions. But there are others (co-workers, industry colleagues, even media critics) who have taken the time to really listen and get to know you who have treated me fairly, wished me well, and been cool. I think all of us give too much attention to the negative forces in our lives. We scroll past five compliments and dwell on one hater. It's been nice to know that I've earned the respect of many of my colleagues.
And yes, I've heard quiet agreement in the hallways and in my texts for years.
---
From: Steve Krakauer
To: Will Cain
Will-
Let me ask you about something you've brought up in a couple interviews this week that I know about but know you generally haven't talked much about previously… the fact that your two sons go to school in Harlem. I wonder if you've been checking out the Nice White Parents podcast from the New York Times. The latest episode focuses on Success Academy (mainly the one in Cobble Hill).
The critiques are not unexpected – it's "equality," but the "bad kind" (not "equity"), over-reliance on test achievement, too regimented and strict… It reminded me of your work when we were at TheBlaze on Alise vs The Mayor.
What is it about charter schools that you think so enrages the left? It's a strange hot button issue that seems so unrepresentative of the actual situation, particularly if you dig in and talk to people. It takes such effort to try to make a negative case…
And last thing, that you've also talked about a bit in the other interviews, is Twitter. You and I have talked a lot about Twitter over the years, and it's certainly a platform that over-indexes among the media. There are undoubtedly pros and cons to it, but in the way you describe yourself as being curious, interested in people and ideas who are different than you and yours… there's so much self-selecting that happens with a person's Twitter feed that can lead them into a bubble divorced from reality. How have you tried to tailor Twitter to show you a broader cross-section – or have you (or have you just decided Twitter is the bubble and you need to find alternate voices elsewhere)? Is there a particular follow or person you enjoy hearing what they have to say that may surprise people?
Thanks for doing this and good luck with the new gig….
---
From: Will Cain
To: Steve Krakauer
And it takes the most effort for me to not get angry, to understand the other side, and to muster goodwill in a debate. Because to oppose charter schools is to condemn children to a life of failure. I haven't listened to that podcast and you're right that I don't talk a lot about my children and our family's school choice. It's their life and not my debate point. But I have had a front row seat on the effect of charter schools in minority communities. Charter schools aren't perfect and some fail. But what school is perfect? And some charters are an absolute lifeline. The alternative to Success Academy in Harlem for most kids are schools that are failure factories. Violence, below ten percent passing the state tests, and drop outs. I'm mystified by the opposition. It's about teachers unions, and money, and – I guess accusations of white supremacy for I-don't-know-what like everything else – and political power. One thing it's not about is the lives and futures of children.
So I had to think about this one for awhile and really ask myself if I've included enough diversity of viewpoints in my feed. First, I think twitter itself is a bubble largely out of touch with America. And second, I just don't think it's very good at satisfying curiosity or exposing you to divergent viewpoints. I follow a lot of people that I disagree with but I can't say it's a source of growth. For example, I have no problem telling you people who I think are interesting, but different than me, on television: Rachel Maddow, Chris Hayes, Shannon Sharpe, Nick Wright. But I don't have much use for their tweets. Equally, I respect and really enjoy talking to some people who think differently from me, in person: Emmanuel Acho, Pablo Torre, David Mulugheta. But sometimes I don't think their tweets are the same person I know. I'm sure you can say the same about me. When I said something about the media's reaction to the Bubba Wallace story, Dominique Foxworth called me and wanted to talk through our disagreement. It was cool. He said he didn't want to tweet his response and I imagine if he had, it wouldn't be so cool.
Twitter is not useless. I've found some really interesting people like Thomas Chatterton Williams and James Lindsay on Twitter. It's just not the place for an exchange of ideas.
Thanks man. Always good talking to you Steve.