Joe Biden was named in an email found on Hunter Biden's laptop discussing a 25 million-ton gas deal with China. The email, recently uncovered by The Daily Mail, casts further doubt on the president's claim that he had no contact with his son's business associates or connection to his son's dealings.
The Daily Mail reports:
In October 2017, Hunter and his uncle –Joe's brother Jim Biden – were brokering a multi-million dollar deal to supply gas from Louisiana to the country on behalf of their business partners, Chinese energy giant CEFC.

At the time Joe Biden had finished his term as vice president and had yet to announce any plans to run for president in 2020.

A Louisiana-based lawyer on the other side of the deal wrote in an October 27, 2017 email that he had arranged 'a call from Joe Biden and Hunter Biden on Monday morning to discuss the purchase of the 5 million tons of gas.'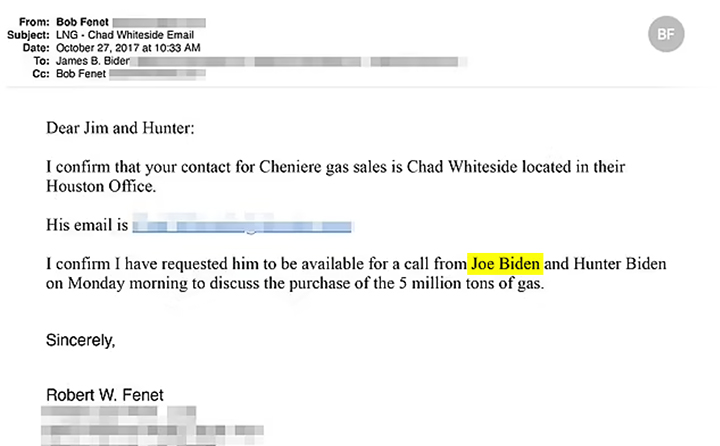 Despite mounting evidence to the contrary, President Biden has repeatedly denied involvement in his son's Chinese business dealings. In April of 2022, then-White House Press Secretary Jen Psaki maintained that Joe and Hunter Biden never talked about foreign business.